Hey, what about QRP? Great fun, I even make such contacts across the Atlantic on topband from time to time. But when it comes down to contesting, working a new one or running a pileup, an amplifier can be handy.
As always, this is a personal choice and comes down to using this kind of equipment in a sensible way.
In Hamradio 2007 in Friedrichshafen, for the first time I came across OM Power from Slowakia. I had a quick look at their amps, they looked great, but I did not inquire any further as I already had an amp from another manufacturer.
I bought that other amp(*) in 2004, as a replacement for my old trustworthy LK-800 from Amp Supply. The LK-800 was dated and needed repair from time to time, I wanted something new, troublefree for years to come.
Halas, it was not to be. Problem after problem came about, I had it with that amp and wanted to get rid of it.
Along came Hamradio 2008, and I took an amp from OM Power back home. Waw, it rocks! Even more important is the service that comes along with it.
If a major fault occurs during the warranty period, OM Power will pick up the amp at your home, at their cost, and return it to you within two weeks.
Here is the link to the OM Power website. If you're looking for a new amp, they may just have what you are looking for.
I am in no way financially or in any other way connected to OM Power, except for the fact that I like what I see. It's a pleasure doing business with them.
OM POWER Amplifiers...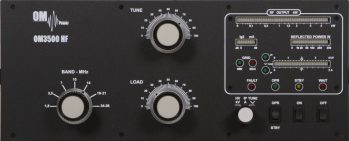 ... the way to go!
(*)
If you have some time (well, quite some time, it is a pretty long story) to read the horrendous story on what happened with my previous amp, you will be able to appreciate my choice for the future will be with OM Power. Service is important!
As I learned that the ownership of the previous amp manufacturer will change in the near future, I decided to leave out the company name.
I wanted to put this story on eham.net and several reflectors, but decided not to do so, as to give the new owner a fair chance of survival. Because, anyone having read this story, would most probably not buy an amp from this company.
I hope the new owner will not treat his customers the way I have been treated.